Cupcake Love Adult Adjustable Chef's Apron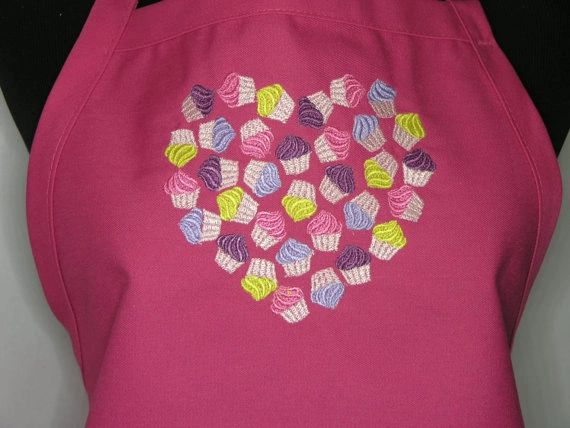 This is a "twin" to the child's Cupcake Love apron. It's looks best on hot pink, turquoise, and purple, so those are the colors we offer. However, if you want something less girlie, you could choose khaki or black as a special order (they only take 5 business days more). I made a bunch of these for a cupcake shop and the guys enjoyed the khaki aprons much more than they would have enjoyed wearing the hot pink! I just can't seem to find my photos from that order!
Backorders take only an extra 5 days to make!
Made of durable 65% polyester and 35% cotton and backed with seven ounces of twill, these restaurant-quality aprons make a fashion statement while standing up to the toughest cooking conditions and repeated washings. They have a soil and wrinkle-resistant finish that will keep you always looking your best.
The height of this apron ( from the chest down) is 24" and the width ( from side to side ) is 28" - with adjustable neck strap and extra long finished waist ties. The extra long waist ties are about 34 inches long on each side of apron. The adjustable neck strap lets the apron raise or lower up to 8 inches. The neck strap and waist ties are made in the same fabric and color of the apron.
XL aprons are available as a special order for a $7.00 surcharge. Please note that the regular sized apron is generous in size. It does fit most. I've seen it on a person less than 100 pounds and one around three times that. The adjustable neck and long ties make this a great buy!