French Style Grenadillo and Maple Breadboard/Cutting Board/Pizza Peel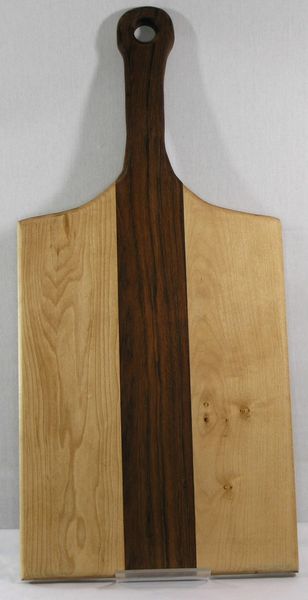 This gorgeous cutting board is made of Central American Grenadillo and North American Rock Maple . Because the handle is fused to the body (it's one piece of wood), breakage is not likely -- unless you're incredibly rough with it. I use only Titebond II glue (food safe) and condition the wood with mineral oil, carnuba wax, and beeswax (Howard Butcher Block Conditioner). All of the corners and handle are rounded over (even inside the hanging hole). The dimensions are: 22 7/8 x 10 3/8 (body is 14 ¾" of that length). It weighs 3 pounds and 12 ounces. Great for hanging on the wall of your kitchen for double duty as useful art.
You can wash this board with hot water and soap. You cannot put it in the dishwasher. When you wash it, dry it immediately. I send directions on how to keep the wood conditioned so that this board will last for generations!
Included with this cutting board is a free trial size of Howard Butcher Block Conditioner. It's the best conditioner I've found to protect your kitchen wood products. It's totally food safe.

I will ship to Hawaii, Alaska, and internationally. Please consult me for an exact price on shipping prior to your order on these locations. The shipping costs for international sales are higher, as are priority mail prices to Hawaii and Alaska.