Train Steam Engine Chef's Apron for Kids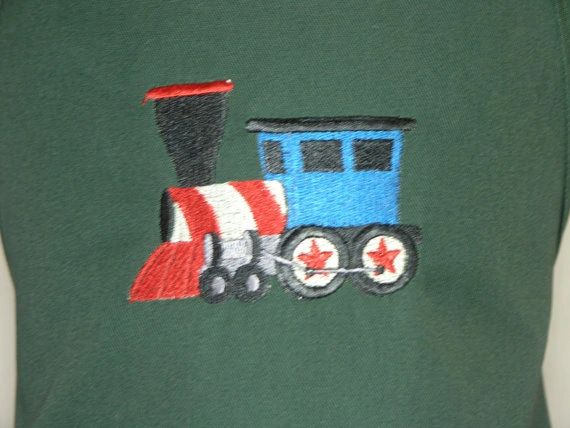 When my nephew Carter was little, he loved all things related to machinery. Still does, in fact. Though I could find all sorts of tractors, backhoes, emergency vehicles, construction toys, etc., what I couldn't find were kitchen items that allowed him to express his boyish side while experimenting with cooking and baking alongside his sisters. It set me thinking about a line of vehicle-based kitchen aprons for boys and tomboys (because I didn't like frilly things either).
I hope your little boy or tomboy loves them as much as ours do!
I can add your child's embroidered name for an additional $6.00. Just choose the option for name above and make sure to include the child's name in the notes section of the order.

This will come up as backordered. It just means I don't have them made. I can get them out to you within a week.
Two Large Pockets, Non-Adjustable Neck Strap, Unisex Styling - Suitable for Boys or Girls.
Durable 65% Poly and 35% Cotton 7 oz. Weight Twill. Restaurant Quality, Washable, Soil and Wrinkle Resistant Finish. Proudly Made In The USA !!!
Size Specifications:
Regular : The height of this apron ( from the chest down) is 20" and the width ( from side to side ) is 15" with a non-adjustable neck strap and long finished waist ties. This apron will fit most children ages 3 to 8 years old.
Extra Large Aprons are not in stock for this item.
Please Note: The apron sizes noted above are measured without the waist ties or neck strap. The long waist ties are about 18 inches long on each side of apron. The neck strap and waist ties are made in the same fabric and color of the apron.